Boat Service & Outboard Repairs Missouri | Gelcoat & Fiberglass Repairs
Blue Springs Marine Boat Repair and Engine Service Department
Boat Maintenance & Service in Blue Springs, MO - Evinrude & MerCruiser Outboard/Inboard Repairs
Blue Springs Marine is PROUD to be the only Marine Service Center in Kansas City with Certified / Master Technicians in every brand we service, to make sure your work is done right the first time!
Have you looked under the hood of your car lately?
If you have, then you would have seen how much technology has changed in 10-15 years. Your boat engine is the same way, being fully computerized requiring specialized equipment to repair them. Many of your independent repair shops do not have the training or special tools needed to repair the new technology marine engines. Allow Blue Springs Marine's Factory Trained and Certified technicians keep you on the water using only factory/OEM parts on your boat.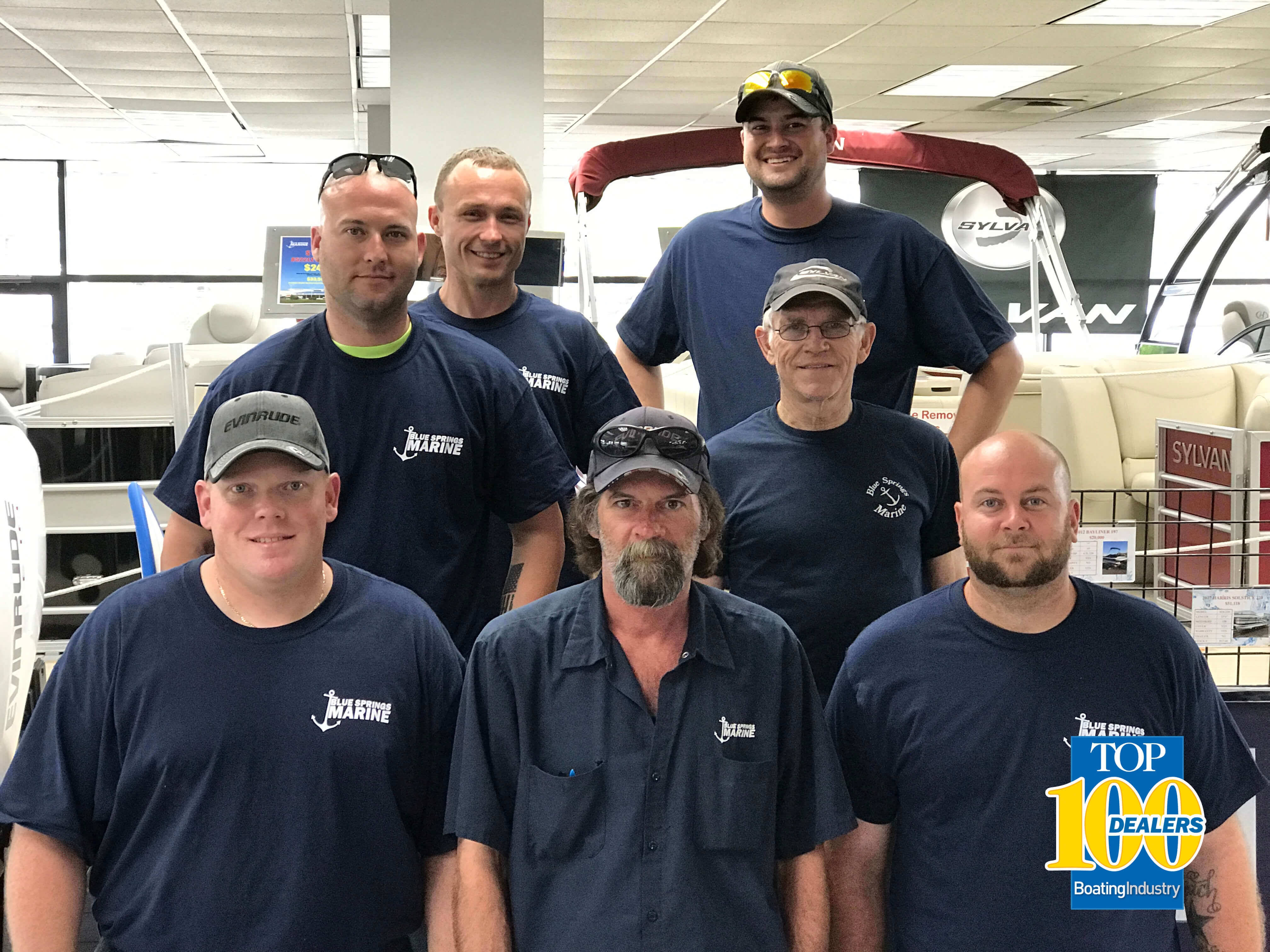 ---
Blue Springs Marine's Available Services
Complete marine engine maintenance and repair for all Johnson/Evinrude, Mercury, Yamaha outboards and Mercruiser sterndrives 1985 and newer Certified factory service center for Evinrude, Johnson, Mercury, Yamaha and Mercruiser
Full boat and pontoon maintenance and repair
Winterization and winter indoor and outdoor storage
On-site and lake call servicing of boat and pontoon
Gelcoat and fiberglass repair on all boats and pontoons
Prop and scag repair
Boat and motor inspections
Powerhead and motor replacement
Boat and pontoon floor replacement
Boat and pontoon acid washing and bottom cleaning
Seat repair and re-covering
Boat cover repair and replacement
Trailer repair and bunk replacement
Boat and pontoon shrink-wrapping
Wakeboard tower sales and installation
Marine speaker sales and installation
Boat and trailer electrical repair
Local boat transport
---
New Changes for 2017
Scheduled Service Appointments
Blue Springs Marine will be moving to scheduled appointment for all our service work. We want to be able to have your boat for less time and keep you on the water longer. By scheduling a set appointment for your repairs will allow for you to better plan your time on the water. We understand your time is valuable. Call us today at 816-229-3366, or setup an appointment online here. Our goal is to get all standard scheduled maintenance and general service work in by Monday back on the water by Friday.
Change to Age of Engines We Service
Due to the growing number of discontinued OEM parts, and the manufacturers no longer providing technical support for older product, we are no longer servicing any marine engines older than 1985.
Loose Outboard Engines
To give us more space for our technicians to work on boats in our shop we will no longer be accepting loose engines in for service. All engines must be installed on a boat for us to be able to service your engine.
Certified/Master Technicians in the Following Brands:
Evinrude Outboards
Johnson Outboards
Yamaha Outboards
Mercury Outboards
Mercruiser Sterndrives
On-Water Boat Service Available!
Able to accommodate customers without trailers. We work with private lake Zebra Mussel restrictions. Saves time pulling it from the water.
We service all metro Kansas City Lakes including, Lakewood, Lotawana, Raintree, Winnebago, Blue Springs, Longview, Jacomo, Quivera, Weatherby, Waukomis, Smithville and Gardner Lakes
We are now scheduling all boats being dropped off for service to better handle all in-coming boats in need of service. We have scheduled drop off times on Mondays and Wednesday through Saturday each day has time slots every 45 minutes starting at 9 am. All boats dropped off on any given week will be diagnosed the next Monday and Tuesday. It is our goal to have all boats diagnosed and back on the water by that Friday. We are scheduling all lake pickups for service each week on Thursday and Friday.
Marine Engines Damaged Due to Ethanol
There now is a state law requiring ALL gasoline that is sold at gas stations in the State of Missouri to contain 10% ethanol. Since the start of this law, users of marine outboards and In-board/outboard engines have seen an increase in fuel system failures, including carburetors, fuel pumps, and fuel injectors. The engine manufacturers have now not included these repairs as a warranty repair. The main way to avoid these damages is to run YEAR-ROUND an ethanol fuel treatment such as Stabil Ethanol Treatment or Starbrite Startron. This product needs to be used all season.