Boat Sales, Service, Parts & Financing in Kansas City
Blue Springs Marine is a 60 year old family-owned and operated marine dealership located in metro Kansas City, Missouri. We are proud to represent Chaparral Boats, Starcraft deckboats, and Sylvan pontoons and tri-toons. We are certified Yamaha Outboard, platinum certified Johnson, and gold certified Mercury Marine and Mercruiser service center.
Four Generations of the Blue Springs Marine Family
Blue Springs Marine boasts the most diversified branded dealership in the Greater Kansas City area and remains the oldest family owned and continuously operated marine dealership in the state of Missouri.
Over 55 years ago, Blue Springs Marine opened its doors for business on 40 Hwy. Paul and Fleta Rand conducted daily business out of this facility selling and servicing the community and outlying areas. It wasn't until I-70's outer road was complete in 1969 did plans take shape to construct a new dealership.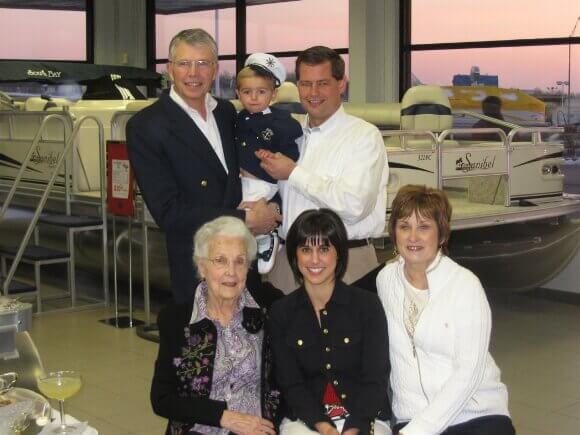 ---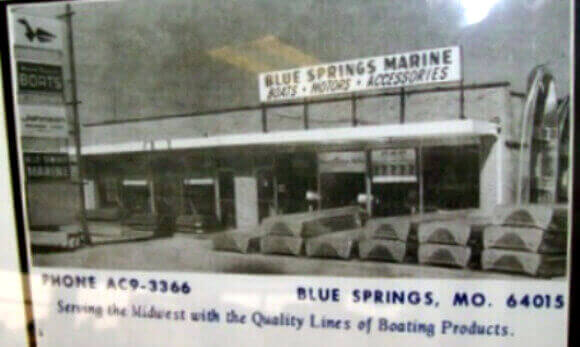 Blue Springs Marine Second Location
The first business to erect on the South Outer Rd had the town buzzing, especially since it was so far from the beaten path of 7 Hwy. Moving day came in 1971 to this new home, for the next 36 years.
By the late 80's Paul & Fleta were ready for retirement, passing the business over to their son, Jim. With business booming and an aging building, a new site was deemed necessary, conveniently located across the street.
---
The Next Generation
In December 2007 moving day came once again. Blue Springs Marine is now proud to call 3200 NW Jefferson Street home. Now, as Jim & his wife Nancy are moving toward retirement, the next generation in line is daughter Carrie and son-in-law Jeff Siems, who currently handles the day to day operations. Keeping the legacy alive will then fall into the hands of Jim & Nancy's Grandson Bentley.

---
Blue Springs Marine Today

Our boat dealership is located just outside of Kansas City in Blue Springs, MO. Since we are so close to the Missouri and Kansas borders, we can offer boats for sale to many customers from the surrounding lakes such as Blue Springs, Lake Jacomo, Gardner, Lakewood, Longview, Lotawana, Quivira, Raintree, Smithville, Tapawingo, Wacomus, Weatherby, Winnebago and Wyandotte. Ask about our pickup and delivery services for boat and outboard service, and Winter Boat storage! We offer a wide range of new boats and used boats for sale such as jet boats, bowriders, jon boats, pontoons, sport boats, bass fishing boats and deck boats. We also have outboard motors in stock. We hope that you will consider us your primary new or used boat dealer whether you live in St. Louis, Columbia, Topeka, Des Moines, Omaha or the KCK and KCMO areas.
Visit Blue Springs Marine for a wide variety of new and used boat sales such as fishing boats, sport and ski boats, pontoons, bowriders and runabouts as well as outboard motor sales and repair. See us about off-season services as well such as winterization and boat detailing.