New and Improved Service
At Blue Springs Marine we view providing service to our customers as a privilege. With that privilege comes the responsibility of acknowledging that our past services have not always met expectations; ours or our customers. We want to make things right and regain the trust of the boating community by providing a level of service that our customers need and deserve. Because we believe our customers deserve the very best, we went out and found the best to join our team. From our technicians to detailers and our service advisors, we've worked hard to build a professional and knowledgeable team whose number one priority is providing a top notch customer experience at Blue Springs Marine.
Our Service Department strives to meet the needs of our customers by offering lake service and drop-off service. To round out your boating needs, you can shop more than 3,000 parts and over 2,500 different accessories with our Parts and Accessories Department.
As part of our commitment to regaining the trust of our valued customers, we are offering a service discount on labor through March 10, 2022. Give us a call or send us a text to schedule your drop off and be sure to mention this discount. We appreciate the opportunity to introduce you to our new, highly experienced team and look forward to showing you the Blue Springs Marine difference!  We are offering this discount to boats dropped off for new service from January 15th through March 10th.

Service Special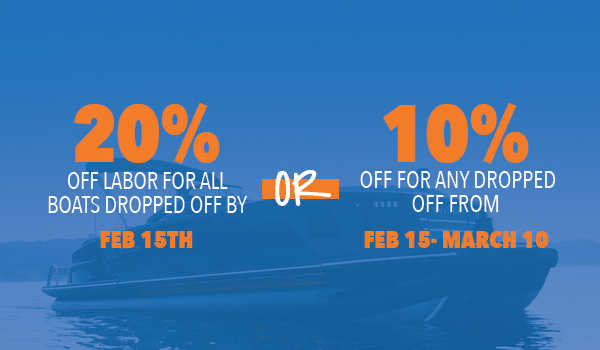 Meet Our Service Team
---
Jamie McCanles
Shop Foreman
Jamie has an Associate Degree in Automotive Repair, is double ASE Certified, Platinum ICAR Certified and Yamaha and Mercury Certified.  With over 25 years combined experience, Jamie brings 14 years of marine experience to our service team.  As the Shop Foreman, Jamie does everything from sharing his expertise through teaching the other technicians, writing service estimates, quality control on service jobs and top-notch customer service.
---
Tina Ferro
Service Advisor
Having worked at Cerner, Tina brings our service team together with skills in leadership and operations.  She might be new to the boating world but that has not stopped her from jumping right in and learning each day.  Her ability to organize and maintain the daily schedules of our technicians is invaluable and helps ensure a smooth workflow helping to reduce the number of days a boat is in for repair.  In addition to providing scheduling support to our techs, Tina's role as service advisor is the customer service liaison for our Service Center.
---
Austin O'Bryan
Marine Technician
Austin brings passion, shop experience and high standards to the service team.  His family is full of life-long boaters and Austin is no different.  His love of boats combined with his knowledge of motors is what drives him to excel.  Austin is pursuing his certification in the marine industry, and he looks forward to putting his talents to work delivering the best product so others can enjoy the "Boater's Life" too!  In addition to becoming a certified marine tech, Austin's goals include being an amazing team player and producing quality work that brings satisfaction to our Blue Springs Marine customers.
---
Wyatt Ferguson
Marine Technician
Wyatt grew up learning the value of good work ethic, never letting anything go undone and above all else, the importance of getting things done right.  Responsibility and accountability are strengths his father instilled in him while Wyatt helped with maintenance on the family's rental properties.  He enjoys hands-on projects and is always eager to rise to the challenge of problem solving.  Wyatt's interest in boats started back when he worked on his family's boat, and he is excited to continue that work with us at Blue Springs Marine.
---
Johnathon Wilson-Johnson
Marine Technician
Johnathan joins our service team with more than 10 years of dealership experience.  With both a mechanical and technical background, he brings with him a vast amount of knowledge on all motors.  Focused, patient and intentional, Johnathan never rushes a job and his attention to detail is one of his greatest strengths.
---
Adrian Zeimett
Certified Technician
You might say marine tech is in Adrian's blood. From his great grandfather to his father, there is a legacy of Master Technicians for Mercury Marine and Adrian plans to continue that tradition by becoming a master technician himself.  Adrian prides himself on quality work and making sure everything he works on has a 100% satisfaction rate before it leaves.  He came to us from the Lake of the Ozarks and brings a love of hands-on experience working on 150-450 HP motors.  His passion is his work, and it shows in his genuine excitement to be at work every day.  He is always happy to share his knowledge and is eager to continue learning while serving our customers.
---
Alexander Burke
Master Technician
Alexander is the newest mechanic to our service team but don't let that mislead you on what he brings to the table.  With more than 25 years of experience, Alexander has expert understanding of marine wiring systems.  Coming from South Florida, he has worked on everything from little 25 HP engines to huge sea vessels.  A certified Mercruiser and Mercury marine technician since 1995, Alexander is knowledgeable and ready to help train other service team members while serving our customers with top-notch expertise
---
Chanel Tompkins
Detailing Specialist
Detailing boats takes an eye for well, detail, and Chanel certainly has that.  Graduating at the top of her class from Park University with a bachelor's degree in Graphic Design, Chanel has a keen eye for color and design as well as detail.  Detailing is more than just cleaning to Chanel; she takes pride in each job and strives to have each boat leave her bay looking its absolute best!
---
Charlie Ferro
Lake Technician
A licensed CDL driver, Charlie brings valued experience in towing and transport to our team.  From lawnmowers to 31' pontoon boats, Charlie has moved it all.  Charlie grew up on boats, and that combined with his experience makes a winning combination for his role as Lake Technician.  Safety and professionalism are his primary goal, and he values every boat he moves as if it was his own.